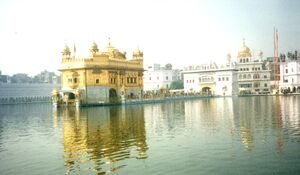 Gurdwara: literally Guru's portal/ abode / House or Door. In the early period of Sikhism, before the advent of the word "Gurdwara", the word "Dharamsala" was used to refer to Sikh places of worship and service (Sewa). The word can be split into two: "Gur" or "Guru" referring to their Guru, Guru Granth Sahib i.e. Gurbani / Waheguru / the word or Shabad and "duwara" meaning "Door" of the "House"
Sikhism, has NO room whatsoever for symbolism or ritualism ; Sikhs have neither idols nor altars in their Gurdwara. They have no sacraments and no priestly order. The essential feature of a gurdwara is the presiding presence in it of the holy Sikh Scripture, called the Guru Granth Sahib also referred to as Satguru. This essentially is the focal point of a Gurdwara. The other main component is the holy congregation called the Sadh Sangat who are present within this sacred structure in humble obedience of principles laid down by the Sikh Gurus.
The Sikhs hold high respect for the commandments laid down in the Guru Granth Sahib and most faithful adherents will adhere to these commandments at all costs. Within the Gurdwara the Sikhs engage in prayer (Simran or Naam Japna) and in voluntary service called Sewa. Langar, free community kitchen serves meals to anyone who visits this Sikh institution. All the facilities are generally managed on a voluntary basis by volunteers called Sewadars. Very few paid staff are generally maintained in Gurdwaras.
This is the place where the young Sikhs learn the essentials of their faith and as they grow older this becomes their spiritual training centre - the KHALSA training institution; a place for organised "Satgur de Seva" or service of the True Guru.
Darbar Sahib in Amritsar, Punjab, India is the focal institution for all the Gurdwaras located the world over.