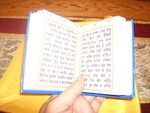 Bani (Punjabi ਬਾਣੀ), short for Gurbani (Punjabi ਗੁਰਬਾਣੀ), is the term used by Sikhs to refer to various sections of the Holy Text that appears in their several Holy Books. These Banis are also found in small Gutkas or Small Books containing sections of Gurbani. These Gutkas can vary from just a few pages to hundreds of pages and are used by the Sikhs to read these Banis on a daily basic. The handy size of the Gutkas makes it easy to carry them in a coat pocket or purse. Although the Gutkas have to be treated with respect and care, the Sikhs do not accord the Gutkas the same treatment as the Sri Guru Granth Sahib their perpetual Guru, which is treated like a living Guru.
Sikhs carry the Gutka covered in a clean cloth and wash their hands before handling the Gutka. You must not put any Gurbani script on the floor; nor handle with unwashed hands; read without covering your head; turn the pages with licked finger; or cause any disrespect to the honourable word of our Gurus.
The Sikh normally would sit comfortably on the floor or if this proves difficult on a bed or sofa, cross-legged with the spine in a straight position in a quiet place in their home or wherever you are and then read quietly the Banis from the Gutka or from memory.